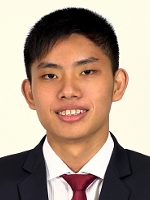 Yong Han Poh
Competitor in Skill: Mechatronics
Country: Singapore
How did you get interested in your skill?
While I was in the process of my diploma course, I was introduced to WorldSkills. then i tried out the Mechatronics trade and found relavant information with regards to my course of study and hence developed an interest in it.

Where did you do your training for your skill?
Over in my school


How did you first find out about your Member organization and its programs?
Through a demonstration that was held in school.

Who influenced you to pursue your skill as a career?
My coaches, experts, lecturers, and friends.


What is your experience in participating with your Member organization?
Fun, enriching process.


Describe your most memorable moment so far with WorldSkills?
Friendly match at Netherlands.


Describe what your experience has been since your involvement with WorldSkills.
Everyday is a learning experience as we get to see and learn new stuff daily.


Did participating in the skills competitions and training for WorldSkills help you progress in your skill? Please describe.
Definately. Hand skills, etc. Through the trainings, I picked up hand skills which aid me in my physical activity.


What do you currently do? Where do you work?
To be a civil engineer.


What are your future career aspirations?