São Paulo is the sixth most populous city in the world, with over 11.8 million inhabitants from all over Brazil and the world. One of 27 capital cities in the country (located in the state of São Paulo), the municipality has the highest number of industries, with extensive productive diversity. In the area of education, it has 249 technical schools, with 22 from SENAI; 532 child education institutions, 1,584 institutions of primary and 200 of higher education.
The city is the main financial centre of South America, headquartering one of the largest stock exchanges in the world, accounting for 12% of the entire economy of the country and ranks fourth in the world for receiving investments.
But by no means is life only about business. The city is also a great culinary and artistic centre, with more than 280 cinemas, 180 theatres, 110 museums and 90 cultural centres. Added to this, it features 420 hotels with 42,000 rooms. There are more than 15,000 restaurants, 500 churrascarias (Brazilian steakhouses), 250 Japanese restaurants, 20,000 bars and 5,000 pizzerias in the city.
With numerous attractions, highlighted by Paulista Avenue, the Museum of Portuguese Language, the São Paulo Art Museum (MASP) and Ibirapuera Park, the locations are quite sought after by more than 13.2 million tourists who visit the city every year. Major events are regularly held in the metropolis: the International Biennial of Art, the Brazil Grand Prix of Formula I, the International Motor Show and São Paulo Fashion Week are just some examples. Also, in 2014, the city was recognized as the best travel destiny of Brazil on Travellers' Choice, an Award given by Trip Advisor.
The São Paulo transportation system is made up of about 1,350 bus lines and an extensive metro network. 9.7 million people are transported per day by bus and 3.7 million via the subway, with its 67 stations. The taxi fleet exceeds 34,000 vehicles.
The city also has two major airports: Guarulhos International Airport, located 30 km from downtown São Paulo and Congonhas Airport, only 11 km from the city centre, used for domestic flights.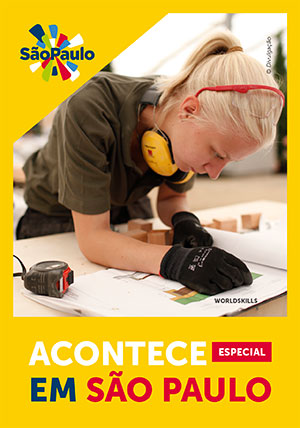 WorldSkills Acontece
SPTuris created a cultural activity guide for São Paulo during and after WorldSkills São Paulo 2015. Enjoy shows, exhibitions, theatre presentations and a lot more by downloading this Guide.
Museums
Free entrance for those who have a WorldSkills São Paulo 2015 accreditation:
Catavento Cultural and Educational
Casa Brasileira Museum
Museum of Image and Sound
Portuguese Language Museum
Sacred Art Museum
Futebol Museum
Pinacoteca Station
Pinacoteca
Free entrance
House of Roses
Guilherme de Almeida House
Resistance Memorial
Art Palace
Afro Brasil Museum
Brazil: Tourist Information



Brazil is rich in natural beauty and incredible destinations for any time of year. The vast territory and influence of native peoples and immigrants from different parts of the world resulted in a country of enormous cultural and ethnic diversity. These ingredients are reflected in the behaviour of Brazilians: creative and friendly people.
A destination for more than six million foreign visitors in 2013, Brazil was appointed the best tourist destination in the world for 2014 by the travel guide Lonely Planet, a year marked by the country's hosting of the World Cup. In 2015, it will host, for the first time, the biggest vocational education and skills excellence event in the world – the WorldSkills Competition, and in 2016, it will again be in the spotlight for major events when Rio de Janeiro will host the Summer Olympic Games.
The largest country in Latin America and the fifth largest by land area in the world, Brazil extends 8.5 million square kilometres, covering a huge range of climates and biomes. There are more than 7,300 kilometres of coastline, famous for beautiful beaches that stand out among the great routes of world tourism. The coastal strip has reefs, mangroves and dunes, along with paradisiacal scenery and famous warm water beaches.
The Country's inland also boasts beautiful landscapes formed by waterfalls, rivers and natural aquariums, with a series of routes with hiking trails, rapids, river beaches, fishing and boating. Surrounded by these wildlife sanctuaries are modern cities rich in attractions such as museums, historical monuments, craftwork, music, dance, cuisine, arts and audiovisual.