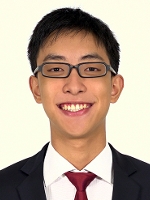 Rong Kang Chew
Competitor in Skill: IT Software Solutions for Business
Country: Singapore
How did you get interested in your skill?
I first started liking to use computers when I was young, but in high school where we all had to use laptops for school work, I started wanting to learn what was behind the scenes of the apps and software that we used on the computer. I started learning software development in polytechnic!

Where did you do your training for your skill?
I learn and practice quite a bit in school, but I also did freelance projects outside of school.


How did you first find out about your Member organization and its programs?
I first heard about WorldSkills Singapore and the competition through my school.

Who influenced you to pursue your skill as a career?
I think my mentors in school, and the people I have met in the industry have encouraged me to continue using my IT skills in my career.

What is your experience in participating with your Member organization?
It was challenging but quite fulfilling!

Describe your most memorable moment so far with WorldSkills?
I think it is most fulfilling when all the hard work in training and preparation lead to my achievement at WorldSkills Singapore.

Describe what your experience has been since your involvement with WorldSkills.
I have been using my skills at work in the IT industry, and the experience has helped a lot.

Did participating in the skills competitions and training for WorldSkills help you progress in your skill? Please describe.
Yes, the time-management and different technical skillsets have helped me when I am at work. Being able to pick up new knowledge helps too.

What do you currently do? Where do you work?
I am currently a developer at my school and a Technical Evangelist at Microsoft Singapore.

What are your future career aspirations?
My dream is to design the next big Operating System!