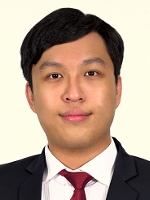 Wei Meng, Daniel Lee
Competitor in Skill: IT Network Systems Administration
Country: Singapore
How did you get interested in your skill?
I always had a keen interest with IT since my secondary school days. Since knowing about the WorldSkills Competition, I am motivated to do my best in this skill area, IT Network System Administration.

Where did you do your training for your skill?
Nanyang Polytechnic, this is where I am doing training, at the institution I am currently attending.

How did you first find out about your Member organization and its programs?
From my lecturer, he was the one who encouraged me to join the WorldSkills Competition. The programs provide me with great opportunities to learn and experience the event, which beyond the scope of normal school curriculum.

Who influenced you to pursue your skill as a career?
My mentor and lecturer, he introduced me to this competition.

What is your experience in participating with your Member organization?
I have participated in 3 similar competitions, prior to WorldSkills Competition. Each time after attending those events, I felt more motivated to set a higher skill standard to challenge myself.

Describe your most memorable moment so far with WorldSkills?
The incredible bond that was forged with my team mates during WorldSkills, Singapore, 2014. The long hours of training and sacrifices, that we have made to prepare for that competition. And then, it was the thrill of winning that event. It was one of the best experiences, I have had so far.

Describe what your experience has been since your involvement with WorldSkills.
Preparations started 2 years ago. Long training hours have led me to improve my stress management. I have gained socially; by interacting with competitors, and made some good friends.

Did participating in the skills competitions and training for WorldS kills help you progress in your skill? Please describe.
Yes definitely. Currently, I am a CCNP (Cisco Certified Network Professional). The training for the competition have reinforced my technical understanding of IT Systems Administration and built up my confidence in my skills in this area.

What do you currently do? Where do you work?
I am pursuing a Diploma in Information Security, at Nanyang Polytechinc, Singapore. I shall be graduating in 2016.

What are your future career aspirations?
I hope to contribute and work in a global IT organization, such as Cisco or Microsoft. The work experience at these companies will definitely widen my exposure and expertise in the IT field.