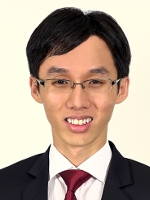 Xian Bin, Eugene Peh
Competitor in Skill: Mechatronics
Country: Singapore
How did you get interested in your skill?
It helps a lot during my studies.

Where did you do your training for your skill?
Campus Compound in Singapore.


How did you first find out about your Member organization and its programs?
Through lectureres.

Who influenced you to pursue your skill as a career?
Expert, coaches.


What is your experience in participating with your Member organization?
Awesome journey; great experience.


Describe your most memorable moment so far with WorldSkills?
Dutch WorldSkills 2015.


Describe what your experience has been since your involvement with WorldSkills.
Tedious coping with both studies and training at the same time, however the knowledge we gain is priceless.


Did participating in the skills competitions and training for WorldSkills help you progress in your skill? Please describe.
Yes. Looking at how other countries perform leave a deep impression and gives us more leaning.

What do you currently do? Where do you work?
Student. Studying and training.


What are your future career aspirations?
Hope to promote what I have leaned as a lecturer.