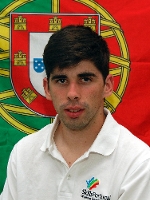 Marcio Ferreira
Competitor in Skill: Mechatronics
Country: Portugal
How did you get interested in your skill?
I got interested in my skill when I started study in my school.

Where did you do your training for your skill?
I do my training in my school and when it's possible in home.

How did you first find out about your Member organization and its programs?
I had known about this Member Organization through my school.

Who influenced you to pursue your skill as a career?
I was influenced to pursue this career by my teachers.

What is your experience in participating with your Member organization?
In my opinion the Member Organization, has done a good job in all events that they had organized till now. They created many opportunities to join the team, which is very good.

Describe your most memorable moment so far with WorldSkills?
The moment I will not forget, was the moment when I was told I had won the medal of excellence.

Describe what your experience has been since your involvement with WorldSkills.
My experience at WorldSkills has been very rewarding because it has brought me many opportunities especially in my field of work.

Did participating in the skills competitions and training for WorldSkills help you progress in your skill? Please describe.
Yes he did, because beyond training done at my school still had the opportunity to attend some formations for better performance.

What do you currently do? Where do you work?
I finished my school few days ago, so, in this moment I am completely focused on the competition.

What are your future career aspirations?
The thing that I want the most is working in the maintenance of production line of Lamborghini or Ferrari.