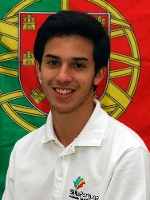 Joao Ferreira
Competitor in Skill: Mechatronics
Country: Portugal
How did you get interested in your skill?
I became interested in this profession because I saw one of my colleagues to participate in this profession.

Where did you do your training for your skill?
My training is held at the training center in which finished the studies.

How did you first find out about your Member organization and its programs?
I had knowledge of this program through my course coordinator.

Who influenced you to pursue your skill as a career?
No, only own will

What is your experience in participating with your Member organization?
The experience is fine

Describe your most memorable moment so far with WorldSkills?
The most memorable moment was the trip to the EuroSkills held in Lille.

Describe what your experience has been since your involvement with WorldSkills
The experience has been rewarding and unique, because we have known and learned many ways of looking at life.

Did participating in the skills competitions and training for WorldSkills help you progress in your skill? Please describe.
Yes, because we train with a lot of pressure.

What do you currently do? Where do you work?
Right now I have the completed studies and find myself in preparation for the WorldSkills.

What are your future career aspirations?
The inspiration for my future career is able to follow the studies and get a job in the field of this profession.