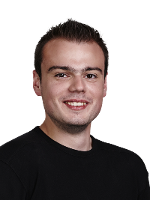 Timothé Debatty
Competitor in Skill: Electrical Installations
Country: Belgium
How did you get interested in your skill?
I chose electricity because I was interested in physics. And that became a passion.

Where did you do your training for your skill?
On construction sites and via "Forem Tournai".

How did you first find out about your Member organization and its programs?
With my school.

Who influenced you to pursue your skill as a career?
Myself.

What is your experience in participating with your Member organization?
An unforgettable experience.

Describe your most memorable moment so far with WorldSkills?
To be selected for WS São Paulo 2015.

Describe what your experience has been since your involvement with WorldSkills
I get to know my expert and the Belgian team. There's a lot of new people to meet.

Did participating in the skills competitions and training for WorldSkills help you progress in your skill? Please describe.
Yes.

What do you currently do? Where do you work?
I'm a self-employed electrician.

What are your future career aspirations?
Enlarge my company.