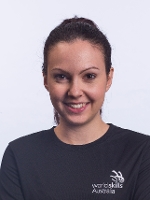 Adele Di Bella
Competitor in Skill: Pâtisserie and Confectionery
Country: Australia
How did you get interested in your skill?
I first got involved in Pastry when I was in high school through the subject Food Technology. Ever since then I have always loved to bake for family and friends and wanted a career out of it. I finished school in Year 10 and enrolled into TAFE as soon as I could.

Where did you do your training for your skill?
TAFE NSW Northern Sydney Institute, Ryde Campus

How did you first find out about your Member organization and its programs?
I first got involved with WorldSkills Australia through my expert Herve Boutin. He was my teacher at the time and told me to enter into the competition. I was very hesitant as I was scared of competing; I never thought I'd do such a thing. But now I am so glad I said yes and went through with it, it was the best thing that happened.

Who influenced you to pursue your skill as a career?
Getting my first job in the industry with Adriano Zumbo made me realise that this is what I want to do. He inspired me to be who I am today.

What is your experience in participating with your Member organization?
My experience with my Tafe is one I will never forget they have supported me the whole way to the international competition and I couldn't be more greatful.
6. Describe your most memorable moment so far with WorldSkills?
The best Worldskills moment for me would have to be Skills squad camp. It was a great time to get to know and meet everyone officially for the first time and over those four days you took home new friends and a new mind set for the rest of the experience in Worldskills. I'd also obviously have to say winning gold 3 times over the course of my Worldskills involvement.

Describe what your experience has been since your involvement with WorldSkills
My experience has been a lot of fun and I know when it's over I am going to miss it. It also has shown me that the more you train the better you'll be and I have grown so much within these few years along side many many trainers and teachers to mentor me. Growing my skills and making myself better at what I do each time I do it. I got to judge my first competition within Worldskills and to see everything from the judges perspective is something so eye opening and I'm so glad I was given that opportunity before I take on the international stage.

Did participating in the skills competitions and training for WorldSkills help you progress in your skill? Please describe.
I am proud of myself for everything that I have achieved at such a young age. I have competed a fair bit – it's a lot of hard work, but what I get out of it is great for me mentally because I have the best time and I meet so many new people. I have become a lot more professional at my job because I am now a qualified pastry chef. I have made a mark for myself in the pastry industry, and people knowing about me and all my efforts in competitions is such a great feeling.

What do you currently do? Where do you work?
Part time / qualified pastry chef at Adriano Zumbos

What are your future career aspirations?
In the short term, I want to do as much as I can while I am young and achieve the best I can through work and competing. To open heaps of doors so in the long run I know I can accomplish that career I've always wanted. My long term goals are to be happy with everything I have achieved, to open up my own business and to be an inspiration to young people for them to go out and achieve what they have always dreamt of.