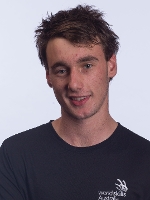 Kelvin Marquand
Competitor in Skill: Manufacturing Team Challenge
Country: Australia
How did you get interested in your skill?
I started with work experiance through school in Year 10. I enjoyed my two weeks work experience, so I decided to do some more. The same company offered me a school-based apprenticeship, so I took that and have been working for them since.

Where did you do your training for your skill?
Federation University, Ballarat Campus

How did you first find out about your Member organization and its programs?
I first got involved in WorldSkills Australia through trade school. My teacher, Simon Krezlik approached me one day and asked me if I had heard of WorldSkills Australia and said that I should enter into the competition. I entered the Fitting and Turning competitions. I won silver in Turning and won gold in Fitting.

My parents influenced me to persue my skill


My experiance with worldskills australia has been great


MY most memorable experiance with world skills is winning gold in the national fitting competition


Worldskills has changed my life as of now i am dedicated to traing and prepairiong myself for the international competition

Did participating in the skills competitions and training for WorldSkills help you progress in your skill? Please describe.
WorldSkills Australia has helped me hugely! I have become more confident, and I have gained more people skills and also organisation skills. People at work do treat me a little different now, and they actually listen to my ideas now instead of thinking I'm just an apprentice.

I am currently employed at findlay engineering. but at the moment i am curently on leave for training

What are your future career aspirations?
Within the next two years, I hope to finish my apprenticeship then look at widening my skills by doing extra courses at trade school like the Certificate IV in Mechanical Engineering Trade and Hydraulics & Pneumatics. I would like to start my own business building custom off-road vehicles.