São Paulo hosts the greatest vocational education and skills excellence competition in the world in August
19 May 2015
From 11-16 August 2015, Brazil will host the 43rd WorldSkills Competition, the greatest vocational education and skills excellence competition in the world at Anhembi Park in the city of São Paulo. Approximately 1,200 registered Competitors from 63 countries and regions are expected to participate. They will compete in 50 different skills related to trades, technologies, and service-oriented careers.
WorldSkills São Paulo 2015 will occupy the entire Anhembi Park, including the Exhibition Pavilion, Sambadrome and Convention Palace, a total 213,000 m². This will be the first time in Anhembi´s history, that a single event occupies all three areas at the same time. Approximately 200,000 visitors are expected. This will be the first time that the WorldSkills Competition will be held in South America. Competitors, 22 years or younger, simulate real work challenges that must be completed according to international industry standards.
Competitors demonstrate individual and collective technical skills to perform specific tasks for each of the professional skills. The Competition will be open to the public from 12-15 August.
Another Competition highlight is the One School One Country programme, which aims to demonstrate to local students that professional skills education is a good path for career development, and that it is possible to complete technical courses, simultaneously, after their second high school year.Fifty-five schools in São Paulo will receive Competitors from different countries and regions and have the opportunity to learn more about vocational education and labour market opportunities. In order to fulfil this purpose, there will be cultural activities promoting information and experience exchanges between Competitors, primary school students (6th to 9th school years) and 12 to 15 year old students in their first year of high school.
The Competition will also have a Visitor Experience project designed to provide a rich experience for visitors, with planned itineraries, guided and educational tours, side events, a Conference Programme and digital platform, among other activities. It is a complete vocational education experience, in a fun and interactive environment.
The digital platform will make it possible for everyone, physically present or not, to have an immersive WorldSkills São Paulo 2015 experience. Technological tools will allow participants to have real-time interactions and social media channels will be constantly updated and focused on public engagement. Other digital surprises will also be available.
One of the main objectives is promoting vocational skills education as a socioeconomic transformation tool. The Conference Programme is important as it will provide an opportunity to exchange best practices, learn from worldclass experts in skills development, and enable networking among industry, government and education leaders. The overall theme of the Conference Programme is Inspiring skills excellence and development.
At Anhembi Park, Cyber will also be a highlight, as the 500m² area will have food trucks, a new food trend in Brazil, as well as interactive activities, educational games, and a relaxing area..
"Brazil´s opportunity to host such a complex event certainly demonstrates the importance of vocational education and training for important stakeholders in the national market, at a corporate and government level. The fact that Brazil will host the greatest vocational education and skills excellence Competition in the world, and the greatest in the history of WorldSkills, is very relevant," states Frederico Lamego, CEO of WorldSkills São Paulo 2015.
This time, the Competition is organized by the National Service for Industrial Training (SENAI), which is one of the five largest complexes of professional education in the world and WorldSkills International, a global organization with 74 Member countries and regions, promoting skills excellence and development in vocational, technological and service oriented careers around the globe.
Brazil´s participation in the Competition
Students from SENAI and SENAC, selected through the WorldSkills Brazil National Competition, held every two years, will represent Brazil at WorldSkills São Paulo 2015.
At WorldSkills Leipzig 2013 Brazil had its largest Delegation since 1983, when the country became a WorldSkills Member. At that time, 41 Competitors from all around Brazil competed in 37 skills. Brazilians won twelve medals: four gold, five silver, three bronze and fifteen Certificates for Excellence.
Vocational Education in Brazil
Vocational education in Brazil, intends to provide technical training and qualification, requalification, and reprofessionalization for workers at any educational level, as well as continuous technological update courses and high school and higher education programmes. A major challenge is expanding vocational education opportunities in the country. To make this possible, the high school education curriculum needs to be more flexible, enabling skills education and training for trades, technological and service-oriented careers.
According to the European Centre for the Development of Vocational Education, in 2010, an average 49,9% of the high school students within the European Union were also enrolled in vocational education courses. In Brazil, only 5,2% of the high school students are enrolled in vocational education courses, however, according to the 2013 Census, there are 7,8% enrolled. The Basic Education Census in Brazil, from 2013–2014, demonstrated that the number of high school students enrolled in vocational education courses has increased, reaching approximately 1,4 million students.
Even with this recent improvement, there is still room for progress considering the Industry´s need for skilled workers.
According to the Ibope survey, requested by the National Confederation of Industry (CNI) in February 2014, 86% of the youth in Brazil agree, fully or partially, that vocational education should be mandatory during high school. Another study performed with professionals from SENAI courses, demonstrated that one year after they received their diploma, workers had a 24% income increase. The research also demonstrated that 72% of the students are employed one year after graduation, with an average income of 2, 6 minimum wage salaries, representing BRL 1,600.
---
Related News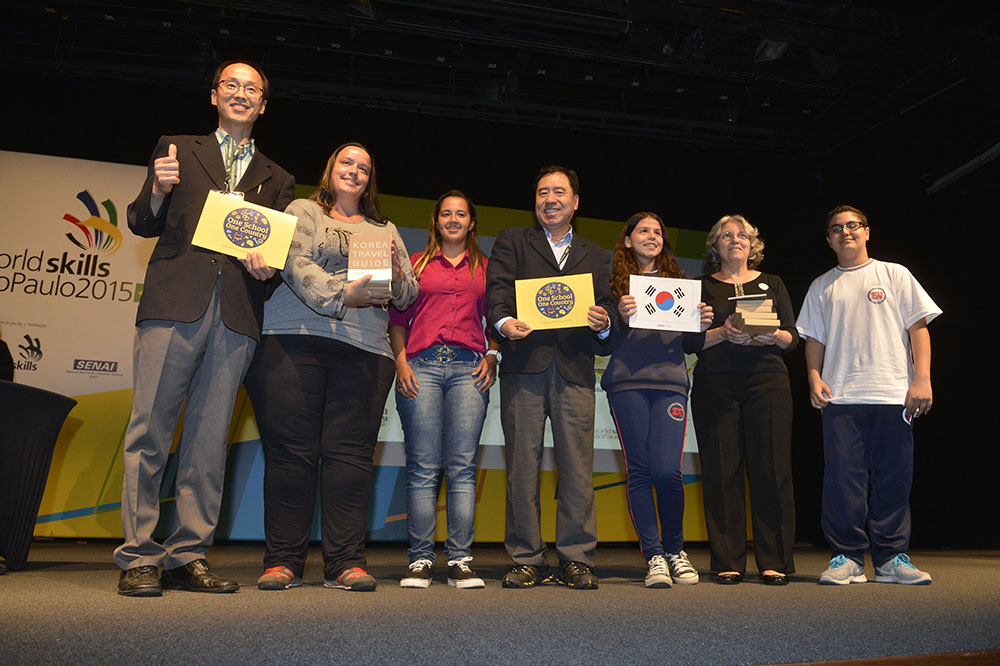 Aug 13, 2014, 10:29 AM
n July, the One School One Country (OSOC) program was presented in two meetings at agencies related to education. The objective…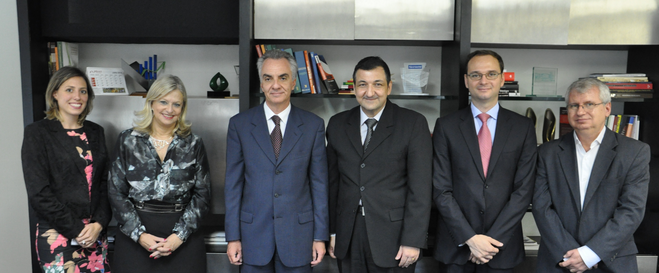 Nov 21, 2014, 2:32 PM
On 4 November, WorldSkills São Paulo 2015 was presented to the State Department of Economic Development, Science, Technology and…
Press Team
Brazil press contacts
Karina Brandford: +55(11) 7850-8269 / ID. 80*848
Marina Figueira: +55(11) 7741-0991 / ID. 80*180636
Lívia Nolla: +55(11) 7850-7232 / ID. 80*1148
Gustavo Silva: +55(11) 7850-8948 / ID. 80*1065
Email: imprensa.ws@wssp2015.com
International press contact
Laura London, Communications Manager, WorldSkills International
Email: press@worldskills.org

Answers to frequently asked questions: