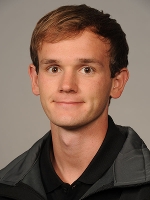 Daniel Dossett
Competitor in Skill: Manufacturing Team Challenge
Country: United States of America
How did you get interested in your skill? I have always enjoyed making something of worth from nothing, so machining suited me very well.


Where did you do your training for your skill? Tennessee college of applied technology


How did you first find out about your Member organization and its programs? Through word of mouth as well as Internet.


Who influenced you to pursue your skill as a career? My parents of course, but really I knew the great opportunities that I could have by pursuing my career as a machinist.


Describe your most memorable moment so far with WorldSkills? By far the opportunities that they are giving me with the competition!


Describe what your experience has been since your involvement with WorldSkills Awesome, but then again nerve racking. Trying to be sure the project you are taking to compete is to all the specs and worthy of representing the United States of America!


Did participating in the skills competitions and training for WorldSkills help you progress in your skill? Please describe. Yes, it has taught me to to be able to move on with progres in difficult times and to not give up when work is hard.


What do you currently do? Where do you work? I am a full time student at tennessee college of applied technology. I do not have a job at the moment.


What are your future career aspirations? I would prefer to have a career in my hometown, there are so many opportunities.