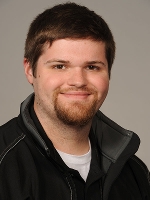 Ryan Womble
Competitor in Skill: Mechatronics
Country: United States of America
How did you get interested in your skill?
Mechatronics was the basis of my apprenticeship at VW Chattanooa so it was something I was involved in and enjoyed. So competing was a national step.

Where did you do your training for your skill?
VW Chattanooga Assembly plant.


How did you first find out about your Member organization and its programs?
At VW Chattanooga plant.

Who influenced you to pursue your skill as a career?
My parents.

What is your experience in participating with your Member organization?
Being able to participate in Skills USA has given me th opportunity to meet people, make new friends, travel, and showcase my skill.

Describe your most memorable moment so far with WorldSkills?
Being presented on stage at the 2015 Skills USA National Conference, as the 2015 USA WorldSkills team.

Describe what your experience has been since your involvement with WorldSkills.
It has involved a plethora of hard work, practice, paperwork and fun.


Did participating in the skills competitions and training for WorldSkills help you progress in your skill? Please describe.
Training has helped me so far to keep me focued on the competition and looking at the details in my work.

What do you currently do? Where do you work?
I currently work full time for Volkswagon Chattanooga Plant.