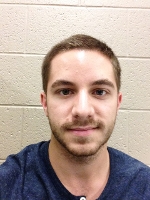 Ian Gwaltney
Competitor in Skill: Mechatronics
Country: United States of America
How did you get interested in your skill?
Mechatronics is a multi-discipline field and the mechatronics program I went through taught a
wide variety of skills. I wanted to be very versatile in whatever career I pursued.

Where did you do your training for your skill?
Our training took place at the Volkswagen Academy in Chattanooga, Tennessee. The program was
possible because of the partnership between Volkswagen Chattanooga and Chattanooga State
Community College.

How did you first find out about your Member organization and its programs?
I first heard of SkillsUSA in high school when my CAD/drafting teacher suggested I compete in
SkillsUSA's Architectural Drafting competition.

Who influenced you to pursue your skill as a career?
My PLC instructor, Donnie Hickman, and my pneumatics instructor, Joey Stokes, both motivated
me to continue improving my skills and excel in a career based in Mechatronics.

What is your experience in participating with your Member organization?
In high school, I competed at the local and state level in Architectural Drafting. In college, I
competed two consecutive years in the post-secondary Mechatronics competition at the state and
national level.

Describe your most memorable moment so far with WorldSkills?
My most memorable moment with WorldSkills has been meeting the rest of the team from the
United States. Every person on the team was fun to be around and we have already become great
friends.

Describe what your experience has been since your involvement with WorldSkills
Since learning that my team had been chosen to compete in the WorldSkills Mechatronics
competition, my partner and I have been practicing frequently to improve our skills. We also had
the opportunity to travel to the SkillsUSA National Leadership and Skills Conference to meet the
rest of WorldSkills team and do training on how to represent SkillsUSA.

Did participating in the skills competitions and training for WorldSkills help you progress in
your skill? Please describe.
Any time I practice my skill, especially when training for a competition, I am trying to become
better than I was before. So whenever I have the chance to compete, it results in my skills being
pushed to the limit and past the limit.

What do you currently do? Where do you work?
I am currently a full time student at Tennessee Tech University studying Electrical Engineering with
a concentration in Mechatronics. Currently my only job is as an engineering tutor for the school.

What are your future career aspirations?
When I graduate from college, I plan to pursue a career designing and building electric vehicles. I
believe that a background in Mechatronics will give me a good understanding of the electrical and
mechanical systems in the vehicles.