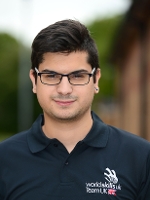 Balint Bogdan
Competitor in Skill: Electronics
Country: United Kingdom
How did you get interested in your skill?
When I was in Primary School, my friend and I took LEDs (light-emitting diode) and made various lamps and lights. It kick started my interest in electronics and when I heard you could have a career electronics engineering, I decided to study in that field.

Where did you do your training for your skill?
I studied at Belfast Metropolitan College, Northern Ireland.

How did you first find out about your Member organization and its programs?
My tutor at Belfast Metropolitan College encouraged me to enter the WorldSkills UK Skills Competitions where I won Gold in Electronics at The Skills Show in 2014.

Who influenced you to pursue your skill as a career?
My parents mostly. They are both self-employed and they have careers in professions they enjoy and like. It made me realise that I must follow my passion for electronics.

What is your experience in participating with your Member organization?
After winning Gold in the final of the WorldSkills UK Skills Competition in Electronics at The Skills Show 2014, I was invited to compete for a place in Squad UK. After training with Squad UK, I competed for a place in Team UK for WorldSkills São Paulo 2015 and will be representing the UK in Electronics at the Competition.

Describe your most memorable moment so far with WorldSkills?
Winning Gold in the WorldSkills UK Skills Competition in electronics at The Skills Show. That was the point I realised that I could have a future working in electronics.

Describe what your experience has been since your involvement with WorldSkills
Joining Squad UK for WorldSkills São Paulo 2015 and meeting a group of hugely talented people.

Did participating in the skills competitions and training for WorldSkills help you progress in your skill? Please describe.
I think it will help a lot. If someone would have told me a year ago, that I would be competing against the best young Electronic Technicians in the world I would not have believed them. I think I will learn a huge amount from competing at WorldSkills.

What do you currently do? Where do you work?
I am currently studying at Belfast Metropolitan College.

What are your future career aspirations?
I am exploring the possibility of doing a university course to become a Microprocessor designer and eventually I would like to be self-employed.