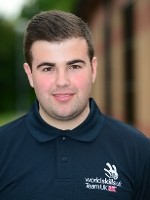 Ben Pritchard
Competitor in Skill: Jewellery
Country: United Kingdom
How did you get interested in your skill?
A family friend owns a jewellery business, and asked me if I was interested in making jewellery. I decided to give it a go and loved it!

Where did you do your training for your skill?
I attend The Goldsmiths' Company in London.
How did you first find out about your Member organization and its programs?
I was encouraged to compete in the WorldSkills UK Skills Competitions by my tutor and first competed in 2010. I have enjoyed competing ever since.

Who influenced you to pursue your skill as a career?
Watching my tutor create pieces of jewellery really inspired me. I wanted to be as good as him and it motivated me to train really hard.

What is your experience in participating with your Member organization?
I first competed in the WorldSkills UK Skills Competitions in 2010 and joined Squad UK for WorldSkills Leipzig 2013. I wasn't successful but was asked to compete for a place in Squad UK for WorldSkills São Paulo 2015 and I was so happy when I secured a place in Team UK for this year's Competition.

Describe your most memorable moment so far with WorldSkills?
Getting into Team UK for WorldSkills São Paulo 2015.

Describe what your experience has been since your involvement with WorldSkills
As a member of Squad and Team UK I was have been lucky enough to have trained with some of the best people in the trade. I have completed training at The Goldsmiths' Centre in London and have also been preparing for the Competition with my master at work Harvey Sillis and my Training Manager Steven Jinks.

Did participating in the skills competitions and training for WorldSkills help you progress in your skill? Please describe.
It definitely has because I have been taught by the best people in the trade and have learnt new techniques for making different pieces of jewellery which I can use in my job.

What do you currently do? Where do you work?
I am completing my apprenticeship and I work at Emson Haig.

What are your future career aspirations?
I want to win Gold at WorldSkills São Paulo 2015 and I would like to be successful in my career.