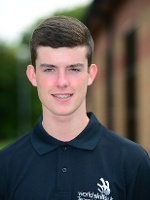 Dominic Trees
Competitor in Skill: Manufacturing Team Challenge
Country: United Kingdom
How did you get interested in your skill?
I got interested in my skill and competing in competitions after meeting the previous competitors who represented the UK at WorldSkills Leipzig 2013 in Manufacturing Team Challenge. They all work for my employer, Carnaud Metalbox Engineering and it was great to see the impact of WorldSkills on their CVS.

Where did you do your training for your skill?
I attended Appris, Bradford College.

How did you first find out about your Member organization and its programs?
After taking part in the WorldSkills UK Skills Competitions at The Skills Show where I won Gold, I was lucky enough to secure a place in Squad UK. I then competed for a place in Team UK for WorldSkills São Paulo 2015. Since I have been with WorldSkills UK I have completed a number of training sessions, supported by employer and Training Manager Wynn Rowlands.


Who influenced you to pursue your skill as a career?
My dad had a huge influence on my career choice, as he is an engineer himself by trade and a successful one at that. He helped me get in contact with Carnaud Metalbox Engineering so I am very thankful for that, if it wasn't for him I wouldn't be where I am today.
My colleagues at work have also been very supportive. As an apprentice the people who train you have a large influence on your attitude towards work and I have been lucky to have been trained by a great set of people at Carnaud Metalbox Engineering.

Describe your most memorable moment so far with WorldSkills?
I can't narrow the moments down to one. I have met some great people along the way and have enjoyed every second of it.

Describe what your experience has been since your involvement with WorldSkills
Since being part of Squad and Team UK for WorldSkills São Paulo 2015 I have taken part in manual machining training and CNC Programming / machining training. The more training you get, the better you get, so I really believe our commitment to training helped us get a place in Team UK.

Did participating in the skills competitions and training for WorldSkills help you progress in your skill? Please describe.
WorldSkills has definitely helped me get noticed at Carnaud Metalbox Engineering. My employer is very proud of mine and my team mates' achievements.

What do you currently do? Where do you work?
I work at Carnaud Metalbox Engineering.

What are your future career aspirations?
I hope that possibly one day the skills I learn by being part of Team UK will lead to leadership roles in Carnaud Metalbox Engineering.