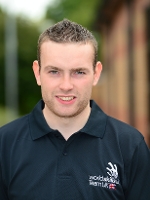 Adrian Canning
Competitor in Skill: Electrical Installations
Country: United Kingdom
How did you get interested in your skill?
I first got interested in electrical installation after watching engineers rewire my granny's house when I was eight years old. I was fascinated by the level of skill that went into the work.

Where did you do your training for your skill?
I trained at North West Regional College in Northern Ireland and I completed my apprenticeship in 2013.

How did you first find out about your Member organization and its programs?
When I was at North West Regional College I was encouraged to enter WorldSkills UK Skills Competitions and I got involved after seeing how far skills competitions could take you. I am proud to say that after excelling in the regional and national WorldSkills UK Skills Competitions, I am now representing the UK in Electrical Installation at WorldSkills São Paulo 2015.

Who influenced you to pursue your skill as a career?
After starting my apprenticeship in electrical installation, the lecturers at my college, North West Regional College, encouraged me to enter WorldSkills UK Skills Competitions to further my career.

What is your experience in participating with your Member organization?
After winning Gold in the final of the 2011 WorldSkills UK Skills Competition in electrical installation, I was invited to compete for a place in Squad UK. After training with Squad UK, I competed for a place in Team UK for WorldSkills São Paulo 2015 and will be representing the UK in electrical installation at the Competition.

Describe your most memorable moment so far with WorldSkills?
It would be the day I was told I had made it into Team UK.

Describe what your experience has been since your involvement with WorldSkills
As part of Squad UK for WorldSkills São Paulo 2015, I have completed a varied training programme supported by my Training Manager Keith Wade, a lecturer at North West Regional College. This has included specialist training to improve my technical skills and also performance management training with Loughborough University.

Did participating in the skills competitions and training for WorldSkills help you progress in your skill? Please describe.
It has certainly helped my career. By competing, I have pushed my skills to a new level and through the training I have completed I have also learnt new skills which I can use in the workplace. Taking part in WorldSkills UK Skills Competitions gave me the confidence to launch my own business.

What do you currently do? Where do you work?
I am self-employed and run my own business AC Electrical.

What are your future career aspirations?
I hope to have a great competition at WorldSkills São Paulo 2015 and win a medal. I am also focusing on my growing my business AC Electrical.