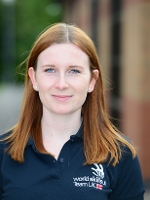 Robyn Clarke
Competitor in Skill: Mechatronics
Country: United Kingdom
How did you get interested in your skill?
I got interested in mechatronics through my apprenticeship in Maintenance Engineering with Toyota Manufacturing UK.

Where did you do your training for your skill?
I trained at Toyota Manufacturing UK

How did you first find out about your Member organization and its programs?
I entered an in-house competition at Toyota Manufacturing UK and I was then asked by WorldSkills UK to compete for a place in Squad and Team UK for WorldSkills São Paulo 2015.

Who influenced you to pursue your skill as a career?
I was looking at alternatives to University and I saw that apprenticeships provide excellent training as well as paying you a salary while you are learning. I decided to apply for an apprenticeship with Toyota Manufacturing UK and was accepted onto their programme.

What is your experience in participating with your Member organization?
As part of my training for Squad and Team UK myself and Andy Smith, my teammate, have worked closely with our Training Manager David Russell, a lecturer at Northern Regional College, on a varied training programme. This has included taking part in an international competition in the Netherlands. The training has given us the technical and personal skills needed to prepare us for WorldSkills.

Describe your most memorable moment so far with WorldSkills?
Getting selected for Team UK.

Did participating in the skills competitions and training for WorldSkills help you progress in your skill? Please describe.
Being involved with WorldSkills has given me training above and beyond what I would receive in my apprenticeship. This has enhanced my knowledge which will benefit my career.

What do you currently do? Where do you work?
I work for Toyota Manufacturing UK.

What are your future career aspirations?
I am hoping to complete an engineering degree through Toyota Manufacturing UK.