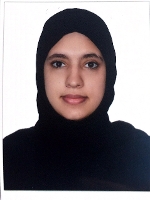 Muneera ALHammadi
Competitor in Skill: Floristry
Country: United Arab Emirates
How did you get interested in your skill?
Always when I go to buy a flower bouquet I was watching the workers how to design it and see how the choose deal with the flower and then I started watching videos on youtube.

Where did you do your training for your skill?
I did my training at the school.

How did you first find out about your Member organization and its programs?
I first found about my member organization from the school, where they asked for participants for the emirates skills competition.

Who influenced you to pursue your skill as a career?
My mother, family, and friends encouraged me to pursue my skill, I thought it was a good idea.

What is your experience in participating with your Member organization?
There are training me in a good way is I can win the competition.

Describe your most memorable moment so far with WorldSkills?
My most memorable moment so far was when they called my name to give me the medal for being the first winner for Emirates Skills.

Describe what your experience has been since your involvement with WorldSkills
I started doing new types of bouquet which I didn't do it before.

Did participating in the skills competitions and training for WorldSkills help you progress in
your skill? Please describe.
Yes it helped me, where I learned more about flowers and how to treat them.

What do you currently do? Where do you work?
I currently study engineering at Secondary Technical School.

What are your future career aspirations?
I want to be an electrical engineer, but in the same time I want to improve my skill more.