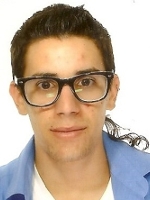 Alejandro MURGA
Competitor in Skill: Bakery
Country: Spain
How did you get interested in your skill?
Well, since childhood I liked bakery and pastry and when I had the opportunity to study I did not hesitate.

Where did you do your training for your skill?
At school. I have studied Bakery, Confectionary and Pastry at a Vocational Education and Training School

How did you first find out about your Member organization and its programs?
I am not sure what the questions means. If it refers to my school and the competition , well basically my teachers told me all I needed to know and helped me to prepare it

Who influenced you to pursue your skill as a career?
I myself was the one who decided to pursue this career.

What is your experience in participating with your Member organization?
Very good , really I did not expect to get this far and I am delighted with the experience .

Describe your most memorable moment so far with WorldSkills?
All preparation they are giving me .

Describe what your experience has been since your involvement with WorldSkills
The relations of friendship that are formed through the competition. I have improved my skills professionally.

Did participating in the skills competitions and training for WorldSkills help you progress in your skill? Please describe.
Thanks to all the preparation I have known people who have helped me a lot professionally.

What do you currently do? Where do you work?
Right now I work in a family business.

What are your future career aspirations?
I would like to open my own pastry shop/ patisserie.