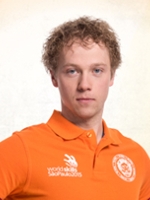 Simon Kuiperij
Competitor in Skill: Landscape Gardening
Country: Netherlands
How did you get interested in your skill?
I started working on Saturdays and in my free time.

Where did you do your training for your skill?
At school and at work.


How did you first find out about your Member organization and its programs?
I found out about WorldSkills at school because I competed in landscape gardening competition in the Netherlands.

Who influenced you to pursue your skill as a career?
The teacher and colleagues.

What is your experience in participating with your Member organization?
WorldSkills takes a lot of time, but it's a challenge.

Describe your most memorable moment so far with WorldSkills?
When I found out I could join WorldSkills.

Describe what your experience has been since your involvement with WorldSkills.
A lot of people call to ask me questions. I didn't expect that. WorldSkills helps me develop my work experience.


Did participating in the skills competitions and training for WorldSkills help you progress in your skill? Please describe.
Yes, you'll learn to work in stressful situation and you learn to be preceise at what you do.

What do you currently do? Where do you work?
I'm a landscape gardener at 'Esselink Hoveniers' and 1 day per week I'll go to school at 'Groenhornst College' to study more landscape gardening.

What are your future career aspirations?
At first I want to develop my work experience, but maybe later I'll start my own company in landscape gardening.