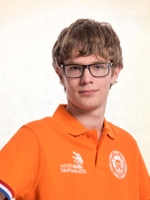 Diewer van der Schoor
Competitor in Skill: Mechatronics
Country: Netherlands
How did you get interested in your skill?
When I was a child I always made machines with LEGO, then I came in contact with Mechatronics what was exactly the same but then for real.

Where did you do your training for your skill?
At ROC Mondriaan Tinwerf 24

How did you first find out about your Member organization and its programs?
Our school Has competed a lot of times in worldskills and euroskill, so we just rolled into it.

Who influenced you to pursue your skill as a career?
It is not a who but it is a thing, when a worked in my father company I worked with half automated machines, I wanted to make them all full automatic.

What is your experience in participating with your Member organization?
Very good, the best times are talking to other competitor what they do and what they like about their skills.

What do you currently do? Where do you work?
I work at Tele-Radio BV http://www.tele-radio.com/nl/, Industrial remote controls.

What are your future career aspirations?
I would like to invent, make, program and test fabrication line for customers.