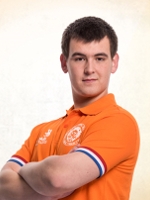 Tom Houtman
Competitor in Skill: Manufacturing Team Challenge
Country: Netherlands
How did you get interested in your skill?
Within the Manufacturing Team Challenge (MTC) I am the electro-technician. I always liked to find out how machines operate and to make my own installations like a garden sprinkler installation fully PLC-actuated. At the moment I am doing a project at my gliding club: the automation of a glider winch.

Where did you do your training for your skill?
Our team is training several times a week at Mosman stainless steel in Enschede (the Netherlands). We have a fully equipped workshop at our disposal.

How did you first find out about your Member organization and its programs?
A former Skills-expert, who is a teacher at my school, asked me and a classmate to compete in an engineering contest. We both accepted the challenge and in june 2014 we participated in a first battle against 14 other competitors , actually still not knowing that we competed for a place in the Dutch team for the Worldskills in Sao Paulo, Brazil. Out of this battle 6 competitors were selected who formed two MTC-teams. At the end of November the final battle took place. Our team preformed the best which led to a ticked for Brazil.
Our team exist out of three guy's each at his best in his own expertise, a construction metal worker, a person who is great in milling and an electro-technician (me).

Who influenced you to pursue your skill as a career?
My father, who is an engineer, always encouraged me to find out how machines operate, how to build them and how to perfect them.

What is your experience in participating with your Member organization?
The technical part of the Skills delegation has its own organization. We do all our preparations within this organization (Techniektalent/Vakkanjers). This organization makes sure we are ready for the competition. For the World skills the technical delegation is transferred to Skills Netherlands.

Describe your most memorable moment so far with World Skills?
My most memorable moment so far was the revealing of the results during the final national battle where we heard we were not only the best team but that we also managed to gather enough points to earn a ticket to Brazil.

Describe what your experience has been since your involvement with World Skills
Working in a team with the help from experts in order to get the best performance. Next to the competition skills we are being prepared for coping with pressure and the press by mental and physical training and press-dealings.

Did participating in the skills competitions and training for World Skills help you progress in your skill? Please describe.
Yes, of course it did help; I've learned new computer programs, to work in a team, to anticipate, etc.

What do you currently do? Where do you work?
I'm in the last year of my study electrical engineering level 4 of the secondary vocational education .
At the moment I 'm doing my internship at Brinks metaalbewerking in Vriezenveen (the Netherlands). My task is the engineering and the construction of a complete functional workcel. Including the restauration and programming of a 6 axis robot, making 3D drawings of all the constructions and putting all the components together.

What are your future career aspirations?
In August 2015, I 'm starting with my study: higher professional electrical engineering.