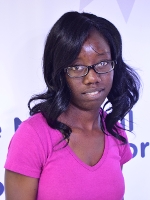 Rakel KN Amutenya
Competitor in Skill: Bricklaying
Country: Namibia
 How did you get interested in your skill?
I have always had aspirations of becoming involved in the construction industry. Becoming a bricklayer will help in the development of my country and uplift my fellow countrymen and women. Also, what attracted me to the sector is to prove to my male counterparts that I, as a woman, can also succeed in a male-dominated sector and that we are not scared of hard physical labour!

Where did you do your training for your skill?
I am enrolled at the Namibia Water Corporation (NamWater) Human Resource Development Centre, which is located outside the town of Okahandja, in Namibia's Khomas region.

How did you first find out about your Member organization and its programs?
My trainers at our campus told me about the Namibia Training Authority and its participation at the WorldSkills competition.

Who influenced you to pursue your skill as a career?
One of my best friends who graduated a few years ago told me about women also being trained as artisans and I was convinced to also enrol.

What is your experience in participating with your Member organization?
I feel honoured and humbled by the opportunity presented to me by the Namibia Training Authority to represent my country in what will be its maiden appearance at this flagship international skills promotion event.

Describe your most memorable moment so far with WorldSkills?
I am very proud and excited to take part in the World Skills this year at Sao Paulo.

Describe what your experience has been since your involvement with WorldSkills
It will be my first time to participate and I am very excited! I believe this experience will further shape who I am and help me to further enhance and improve my skill set.

Did participating in the skills competitions and training for WorldSkills help you progress in your skill? Please describe.
It is going to be my first time at a WorldSkills competition and I look forward to learning from my peers from other countries!

What do you currently do? Where do you work?
I am still a trainee but I look forward to entering the real world of work soon!

What are your future career aspirations?
I look forward to establishing my own construction firm after I qualify as a skilled bricklayer. There exists excellent opportunities in our country's construction sector and I would want to make a contribution to my country's development as a successful bricklayer, entrepreneur and employer!