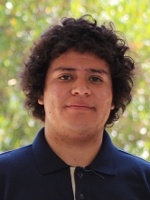 Román Rodríguez Solórzano
Competitor in Skill: IT Software Solutions for Business
Country: Mexico
How did you get interested in your skill?
I'm interested because you learn what's inside the software and you get to see everything used to create it. It is also a challenge for me because the errors within the code aren't hardware problems, instead it is me who creates these errors.

Where did you do your training for your skill?
My training is being realized in school but other than that programming is a hobby of mine that I also practice at home, so I practice in school and at home.

How did you first find out about your Member organization and its programs?
I learned about the competition at school where I decided to participate and was organized by the Mexican delegation that will participate in Worldskills 2015.

Who influenced you to pursue your skill as a career?
It was my sister that introduced me to the computer world but I decided to stay in it. It was out of self-interest that I decided to participate but also to compete against my best friend to see which one of us got to represent our country. I'd like to thank Cristian Cuna for competing with me, it was really painful to hear my name instead of his but I will work twice as hard for him and for me.

What is your experience in participating with your Member organization?
I am very happy and thankful for my life, for meeting the people who will make up the Mexican delegation. I have trouble expressing my feelings, but with them I can be myself and demonstrate how much I appreciate all the people who help me every day, my friend and my expert Miss Liliana.

Describe your most memorable moment so far with WorldSkills?
The most memorable day up to now was while I was with the Mexican delegation and we were sharing our commitments as competitors and experts. It was when it was my turn to share when all of my feelings that I had been holding, in came out and spoke for me. It was very nice because I didn't want to hold in my feelings anymore because I decided to be sincere and honest with everyone there.

Describe what your experience has been since your involvement with WorldSkills
I've seen a new world by going from school, to school in my training. By taking a different pace in my life, focusing on a specific goal to meet has really changed my life in various aspects one of them being that I can express my feelings better and I can

Did participating in the skills competitions and training for WorldSkills help you progress in your skill? Please describe.
Yes, because Worldskills is a road and to walk that road you need an ability, but the curious thing of it is that the straighter to walk do the road the more you learn from it, not only in the academic areas but also in personal aspects in your life.

What do you currently do? Where do you work?
I am currently working on the test projects of various countries. My expert shows me the projects and gives me the tools and knowledge necessary to develop the project after which I focus on finishing it, we do all of this at my school Conalep.

What are your future career aspirations?
- I have 2 dreams to meet, the first is to become an independent developer and create my own business or become the owner of an already established one. My second dream is to learn as much as I can and share my knowledge to everyone else. I really want to become a teacher.