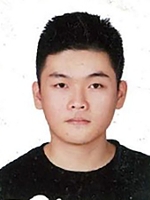 Chi Fong Kuok
Competitor in Skill: Mechatronics
Country: Macao, China
How did you get interested in your sk ill?
I like assembly things, this skill allow me to do what I am interested in

Where did you do your training for your skill?
In Macau Labour affairs bureau


How did you first find out about your Member organization and its programs?
When I was study in Unive rsity, my classmate asks me if I wou ld like to join the training of this program.

Who influenced you to pursue your skill as a career?
My coach.

What is your experience in participating w ith your Member organization?
I got training and learning new skills in Mechatronics.

 Describe your most memorable moment so far with WorldSkills?
We went to training with the competitors in other region and gain lots of memories.

Describe what yo ur experience has been since your involvement with WorldSkills Think logically and eager to see how things works.

Did participating in the skills competitions and training for WorldSkills help you progress in
your skill? Please describe .
Yes , Mechatronics do not just assemb ling things , also need to be very patient and need to think more about how things work


What do you currently do? Where do you work?
As an engineer in Macau

What are your future career aspirations?
Build more things combining electronics and mechanical stuff.