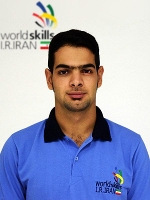 Alireza Hammamizadeh Horjandi
Competitor in Skill: Electronics
Country: Iran
How did you get interested in your skill? 

            When I was in high school,we went to a robotics exhibition,
            Robot performance was very interesting for me,
            and I decided to study in the field of electronics,
            So I joined to the robotics team، and my duty was designing the electronics part.

Where did you do your training for your skill?

           - Academy for Scientific Researches of Kerman
           - In my university , Shahid chamran technical College of kerman
           - ITC Training center.

How did you first find out about your Member organization and its programs? 

            My ّfriend is a teacher at ITC Training Center,and he introduced this Competitions to me.

Who influenced you to pursue your skill as a career? 

           My parents mostly ، And my great interest to the electronics.

What is your experience in participating with your Member organization?

          After winning a Gold medal in the 15th National Skill Competitions of Iran(2014)،
         3 top national skills competitor in the 14th And 15th Was invited to compete for
         Choosing the best competitor and between six person i've Selected and
          i will be representing the Islamic Republic of Iran in Electronics at the
          Competition in WorldSkills São Paulo 2015.

Describe your most memorable moment so far with WorldSkills? 

            My best and exciting moment was in the final selective exams which
            I was the only person who did the final task.

Describe what your experience has been since your involvement with WorldSkills 

           Join the national team skills Islamic Republic of Iran In worldskills sao paulo 2015
           And Meeting with a group of very talented people
           And further enhance my skills in the field of electronics.

Did participating in the skills competitions and training for WorldSkills help you progress in your skill? Please describe 

           Obviously it improved my knowledge and
           I could upgrade my knowledge and be up-to-date

What do you currently do? Where do you work? 

            I am currently studying at Shahid chamran technical College ,
            I don't have a job yet.

What are your future career aspirations? 

          I wish to be Build a great company in the field of electronics.