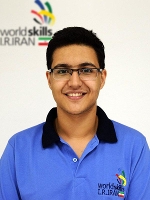 Ahmad Reza Mollapour
Competitor in Skill: IT Network Systems Administration
Country: Iran
How did you get interested in your skill?
Dimensions of this field are growing and variable all the time, and it requires you to have on-going updating process, which totally meet my needs and curiosity.
First I tried to taste it, afterwards I found myself talented in computer science especially in networking area, then I've put my whole efforts and concentration on it since 5 years ago and I'm not regretful about it because it fulfils my endless curiosity!

Where did you do your training for your skill?
I started my first networking course "Network+" in MFT(Tehran Institute of Technology) in 2010, when i was 13 years old if I want to be exact, and I continued to learn the remaining topics there, like Cisco, Microsoft and Linux ...

How did you first find out about your Member organization and its programs?
I heard from my friends in school there is a competition which Iranian competitors gained good places in international levels of computer section. They told me, this competitions includes many fields like Networking, Web Design, Graphics and so on. Its relevancy toward computer stimulates my mind to go for it and find out more information, then after I was faced with lots of advertisements on streets and TV programs related to competition made me more stronger to make my decision with decisiveness.

Who influenced you to pursue your skill as a career?
The most influential people were my teachers/trainers and other specimens that I have experienced or encountered during the way, affects a lot in convincing me to choose it as my future career and major and ofcourse my family!

What is your experience in participating with your Member organization?
I gained many great and valuable experiences during my participation. I have worked with many geniuses, responsible , devoted people as participator or as a person who was in charge of organization. I have inspired many nice features of there characters during these years like, struggling to copy with stress and heavy workload and how to manage it, being chosen based purely on merit, ability to say deterministic answer, technical expertise.

Describe your most memorable moment so far with WorldSkills?
The unforgettable and unrepeatable moment was the final day which I had been selected in a perfect competition as the only one who can participate in Worldskills 2015 after a very hard and breath taking contest over selecting the most competence one. My solidity and strength during 5 years of indescribable effort, ended in a good result.

Describe what your experience has been since your involvement with WorldSkills.
As I mentioned earlier, working with people having similar workex, always makes me feel motivated and it's even really exciting, because there are always some good and new things waiting for you!

Did participating in the skills competitions and training for WorldSkills help you progress in your skill? Please describe.
For sure yes, definitely I have been engaging all the time with learning during last 4-5 years, I was confronted with many odd situations and problems which was hard to be solved, my urge and resistance toward solving problems never let me to give up. It helped me a lot to solve those problems and never give in. I could open the hidden door of Marvelous sight of my brain against networking and understanding of its fundamental pieces which I'm sure it would help me in all stages of my professional life.
I have reinforced my analytical skills and I become more mentally agile in comparison with normal specialists or experts in my major.

What do you currently do? Where do you work?
Currently I don't work and i dedicated my whole life to Worldskills and network expertise up to now, to be brunt I want to pass this crucial stage successfully.

What are your future career aspirations?
I'm partially indifferent to get my desire job at this age and I planned to continue my education in computer science and brighten my future with a mixture of skills and academic views to get the best job ever!