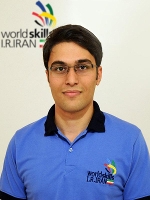 Alireza Mirzaeiyan
Competitor in Skill: IT Software Solutions for Business
Country: Iran
How did you get interested in your skill?
I got involved with computer technology when I was child, and it was very attractive for me that how computer does fantastic works! So I got interested in it quickly.

Where did you do your training for your skill?
The major place of my training was at home, and I almost used self-study method to learn things. However, my teachers at university played an effective role as well.

How did you first find out about your Member organization and its programs?
A friend of mine told me about this competition at university.

Who influenced you to pursue your skill as a career?
I think the most important reason was my interest, after that my parents encouraged me.

What is your experience in participating with your Member organization?
It's a great opportunity for me to improve my skills near all the competitors and experts, and I've gained much experience near my friends.

Describe your most memorable moment so far with WorldSkills?
The most memorable moments of WorldSkills are the moments that I've spent with my friends.

Describe what your experience has been since your involvement with WorldSkills It was very good.
I think it was very educational for me, and I've met many talented people in this atmosphere.

Did participating in the skills competitions and training for WorldSkills help you progress in your skill? Please describe.
Yes it did. I think it helped me to gain much experience in my skill.

What do you currently do? Where do you work?
Currently I'm doing a B.S.c in software engineering and working as a developer in a software development company that develops software system for companies and organizations.

What are your future career aspirations?
I'm planning to be a greater software developer and work as an international software engineer.