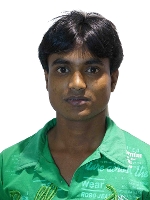 Surajit Kumar Rana
Competitor in Skill: Jewellery
Country: India
How did you get interested in your skill?
One of my friends was a jeweller, he invited me to see his working place. I got interested in work and got initiated, learnt basics for some time.
I came across announcements of regional rounds of search for Indian champion in domain of jewellery. That drew my attention, with the help of my friends I procured and filled the form. After initial scrutiny, we took part in competition round held in Thrissur.

Where did you do your training for your skill?
I started my training in month of September, 2014 with the support of GJSCI at Studio Grau Bär Designs Indore. I and my friend vinodh feel very lucky to have guidance of Dr. Parag K Vyas, as our mentor he has opened our mind to many new things and encouraged us on our chosen paths.
Our training takes place in fine metalwork studio, which is specially built for this purpose. Besides fine metalwork we also learn theory behind subject regularly.

How did you first find out about your Member organization and its programs?
We were given an educating presentation about worldskills before the regional rounds. This covered what is the competition about and health and safety guidelines to be followed during procedures.
Through this awareness program I learnt about our member organization who are supporting this noble endeavour.

Who influenced you to pursue your skill as a career?
Our teacher Dr. Vyas and previous Indian Champion Mr. Bhabesh Chandra Jana encouraged my efforts, they have influenced my persuasion of skill in a big way. My approach towards work has change in a positive way.
Now my work is better and more interesting. I am learning new things every day.

What is your experience in participating with your Member organization?
I am thankful to our organization for all the arrangements of my training. This is a wonderful opportunity to further my vocational skills.
I can feel the improvement in my work practices as compared to the way before.

Describe your most memorable moment so far with WorldSkills?
The experience of travel abroad for the first time and getting an opportunity to represent my country in an international event is my most memorable moment.
I feel proud of my country, it's a wonderful feeling.

Describe what your experience has been since your involvement with WorldSkills
It has been an educating experience with new learnings every day. We have learnt many ways of doing things. Some of these make work very easy.
Things that I am learning will be very useful in my practice in coming days.

Did participating in the skills competitions and training for WorldSkills help you progress in your skill? Please describe.
The participation has helped me in a big way. It started with regional rounds in India and recently the experience of participation in oceania 2015, New Zealand has helped me progress in my skill. It gives an opportunity to learn new techniques and know new use of similar tools.

What do you currently do? Where do you work?
Currently we are preparing for participation in worldskill 2015, sao paolo Brazil.
I also have some previous experience of working in Emerald, Coimbature.

What are your future career aspirations?
My career aspiration is to excel in jewellery making. My aspiration is to have proficiency in crafting intricate and beautiful pieces of jewellery.