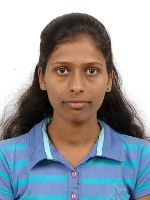 Varsha Pawale
Competitor in Skill: Mechatronics
Country: India
How did you get interested in your skill?
During my training period, we did projects subjected to mechatronics. At first it seemed difficult but later on we completed it successfully, that thing creates my interest in mechatronics skill.


Where did you do your training for your skill?
I did most of the trainings in my company Volkswagen India Pvt. Ltd. I also did some training in Festo Didactic, Pune & GTTI Coimbatore.


How did you first find out about your Member organization and its programs?
At first one of my teachers visited my college & told us about organisation & training programs. There I have filled application form for the training & later on Icame to know most of the things about the organisation.


Who influenced you to pursue your skill as a career?
My teachers & parents influence me to pursue the skill as a career.


What is your experience in participating with your Member organization?
It's fantastic & memorable experience for me to participate with member organisation.


Describe your most memorable moment so far with WorldSkills?
At the worldskills India competition closing ceremony in Delhi I got championship award which was the memorable moment with wordskills.


Describe what your experience has been since your involvement with WorldSkills
I have experienced that just to become a winner is not so important but you create some difference amongst all competitors with your skill that is tough thing.


Did participating in the skills competitions and training for WorldSkills help you progress in
your skill? Please describe.
Yes of course! Participation in skill competition gives me self-confidence . Different trainings
for worldskills make improvement in my way of working .

What do you currently do? Where do you work?
Currently Iam working with Volkswagen India assembly planning department & working on upcoming & ongoing projects.


What are your future career aspirations?
Iwant to be the best in my skills & want to pursue more knowledge in my field which will be helpful for the organisation.