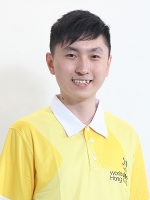 Ming Fai Law
Competitor in Skill: IT Software Solutions for Business
Country: Hong Kong, China
How did you get interested in your skill?
When I was a beginner in learning programming, I found that programming was quite easy
and interesting. It encouraged me to learn more about programming on Internet and
therefore I interested in my skill.

Where did you do your training for your skill?
I have training in my post-secondary school where is my first place to learn programming.

How did you first find out about your Member organization and its programs?
I saw a poster in my post-secondary school and I thought that it is a good chance to proof
my knowledge in software development skill.

Who influenced you to pursue your skill as a career?
My teacher influenced me to pursue my skill as a career. He is also the person who
suggests me to participate in the competition.

What is your experience in participating with your Member organization?
I participated two competitions in my member organizations which includes Worldskills
Hong Kong and the screening test for selecting competitor to represent Hong Kong

Describe your most memorable moment so far with WorldSkills?
In the first session of the WorldSkills Hong Kong competition, it was my first time to
participate in software development related competition. During the competition, an error
occurred and I had no idea how to solve it. Therefore, I was really scared and just redo all
the requirements carefully and quickly to avoid facing the error again.

Describe what your experience has been since your involvement with WorldSkills
I know more about what IT system for business is. The functions needed for commercial
business are usually product/ services ordering, invoice and data reporting. It also let me
know more about specific term for different kinds of business.

Did participating in the skills competitions and training for WorldSkills help you progress in
your skill? Please describe.
Yes, training for WorldSkills help me progress in my skill. Since training for WorldSkills is
very intensive, I have to manage my time well to prepare the WorldSkills competition. In
addition, I also learnt more about software development skill in the training, such as
different kind of data representation.

What do you currently do? Where do you work?
I am still a post-secondary school student in Hong Kong that studying in Computer Science.

What are your future career aspirations?
For my future career aspirations, I want to start my own business if it is possible. For my
ideal business, it is launching a software house that fully matches with my skill. I like
software development because all my work can solve the existing problems and be used in
the real workplace.