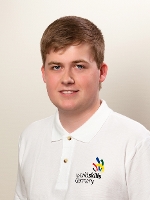 Rafael Frank
Competitor in Skill: Mechatronics
Country: Germany
How did you get interested in your skill?
I've done different internships at different companies which all were good but my favourite was the mechatronics intership.

Where did you do your training for your skill?
I train with my teammate at our Education company Festo.

How did you first find out about your Member organization and its programs?
I found out the first time about WorldSkills when I join the company where I do my
apprenticeship.

Who influenced you to pursue your skill as a career?
My instructor asked me if I wanted to take part in the WorldSkills.

What is your experience in participating with your Member organization?
There are a lot of organizational to clarify. But we also have met the other competitors to prepare us for the WorldSkills. And further meetings will follow.

Describe your most memorable moment so far with WorldSkills?
My most memorable moment so far was when I won the German competition in mechatronics with my team-mate.

Describe what your experience has been since your involvement with WorldSkills
Since I've been in the national team I have to work a lot of organizational and at the same time I have to prepare myself for competition.

Did participating in the skills competitions and training for WorldSkills help you progress in your skill? Please describe.
Yes absolutely. The training for the WorldSkills helps me because I'm learning many things in my Skill, for example fast but efficient working, teamwork and much more.

What do you currently do? Where do you work?
At the moment I train at my company for the WorldSkills

What are your future career aspirations?
After my apprenticeship I want study Mechtronics.