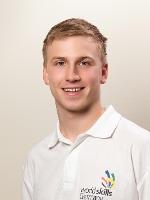 Micha Lukas Purucker
Competitor in Skill: Mechatronics
Country: Germany
How did you get interested in your skill?
During my school time I made some practical trainings in different companies and there I noticed that I'm very interested in mechatronics.

Where did you do your training for your skill?
I train with my teammate at our education company Festa.

How did you first find out about your Member organization and its programs?
Our trainer from work informed us about it.


ho influenced you to pursue your skill as a career?
My instructor motivated me and asked if I want to take part in the skills.

What is your experience in participating with your Member organization?
I learned how important it is to work in a team.

Describe your most memorable moment so far with WorldSkills?
It was a great moment when we found out, that we won the German competition. It was unbelievable when we stood there on the podium and hold the trophy in our hands.

Describe what your experience has been since your involvement with WorldSkills.
I had to do a lot of organisation stuff, which I hadn't expect.


Did participating in the skills competitions and training for WorldSkills help you progress in your skill? Please describe.
I learned that you should never lose your aim out of your focus and to make everything fit until a given time limit.

What do you currently do? Where do you work?
Currently I,m doing an apprenticeship by the company Festa.

What are your future career aspirations?
I will absolve my apprenticeship and join in working life.