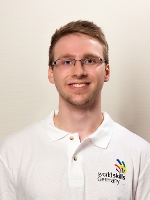 Mario Lüttecke
Competitor in Skill: IT Software Solutions for Business
Country: Germany
How did you get interested in your skill?
I've got interested in programming as teenager and learned the very basics. When I was around 16 years old, a friend asked me if I wanted to modify a game together with him. That was basically the trigger that got me into programming.

Where did you do your training for your skill?
I did my training at my company in Waldkirch, on my usual workspace.

How did you first find out about your Member organization and its programs?
SICK, the company I work for, has won prices in other skill competitions of WorldSkills. But the more detailed Information I got when my trainer asked me to participate.

Who influenced you to pursue your skill as a career?
The trigger was my friend who got me into modding. And also my brother who first told me about programming at all and helped me with the basics.
But of course I always had my families support.

What is your experience in participating with your Member organization?
So far I've participated only the competition and a preparation meeting. The contact to anyone involved, may it be participants or officials was always relaxed.

Describe your most memorable moment so far with WorldSkills
My most memorable moment was the competition in Germany itself. Experiencing the feeling to participate on such a competition, and then to learn that I have won.

Describe what your experience has been since your involvement with WorldSkills
I had a very interesting time since I participated the first competition. The feeling of participating on such a competition and even winning it, is just indescribable.
Since my involvement there was already 1 preparation meeting where all German winners met and got to know each other. We've learned a lot about WorldSkills and were prepared for our time in Brasil.
Also I've been practicing in the company and will attain comparison competitions.

Did participating in the skills competitions and training for WorldSkills help you progress in your skill? Please describe.
Yes the training for WorldSkills helped me to improve my software development skills. I've learned many new things and concepts and had to learn to work under time pressure.

What do you currently do? Where do you work?
Currently I work for the SICK AG in Waldkirch and I'm doing an apprenticeship as IT-Specialist there. So basically, I'm a software developer. I analyse problems, plan solutions and in then I'll design and program the software.

What are your future career aspirations?
I definitely plan to go into software development (for end users). And of course I plan to always extend my knowledge. I'm not sure about whether I want to study or not.