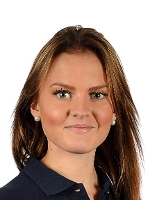 Stina Katajisto
Competitor in Skill: Health and Social Care
Country: Finland
How did you get interested in your skill?
I have always been interested of helping others. I felt like this was the natural choise for me.

Where did you do your training for your skill?
At this moment I am training every week. I started training in December of 2014 when I won the qualifiers.We have had also a few trainingcamps.

How did you first find out about your Member organization and its programs? m
When I was studying in practical nurse my teacher asked me to compete.

What is your experience in participating with your Member organization?
It has been exciting, hard and also very educational

Describe your most memorable moment so far with WorldSkills?
When I won the qualifiers and realized im going to go to WorldSkills competition.

 Describe what your experience has been since your involvement with WorldSkills.
I have learned many new skills that i use in my everyday life and especially when i am at work.

Did participating in the skills competitions and training for WorldSkills help you progress in your skill? Please describe.
I have realised that there is always somethin new to learn.

What do you currently do? Where do you work?
I study in Metropolia University of Applied Sciences, Health Care. I am going to graduate in December 2016.

What are your future career aspirations?
Someday I would like to be a health science teacher.