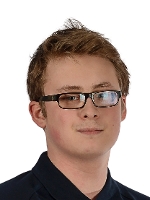 Joonas Krühn
Competitor in Skill: IT Software Solutions for Business
Country: Finland
How did you get interested in your skill?
It was closest to the things I love to do. I've been interested in computers for my entire life.

Where did you do your training for your skill?
At my local school, my expert's school and at home.

How did you first find out about your Member organization and its programs?
I herd about local skills at my school and it sounded like fun and educational so I decided to take my shot at the competition. Then when we were competing, they told us about euro skills and world skills.

Who influenced you to pursue your skill as a career?
Well im not quite sure. I got my interest already as a young boy. My grandpa had all kinda it junk at our garage and I started to play around with those, so I quess it comes from so far away.

What is your experience in participating with your Member organization?
It's been nice, very educational and I've gained much experience from our local skills competitions. Training for world skills has been rough but I am sure it will payback at the moment we land at brazil. Also I like the idea that World Skills has gathered same interests sharing people from around the world.

Describe your most memorable moment so far with WorldSkills?
I guess so far the best moment has been the moment when I heard that I am going there

Describe what your experience has been since your involvement with WorldSkills.
very educational. also I have met so many new people and got a good network around me.

Did participating in the skills competitions and training for WorldSkills help you progress in your skill? Please describe.
Yes it did. as a matter of fact I work in company that developes and desings programs and websites for companies, so this has been very usefull.

What do you currently do? Where do you work?
I work at a company called Process Genius.

What are your future career aspirations?
I am planning to stay in this company i currently work on.