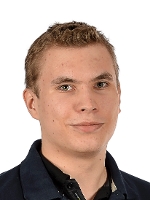 Mika Raudaskoski
Competitor in Skill: Manufacturing Team Challenge
Country: Finland
How did you get interested in your skill?
I have always been interested of electricity, so that's why I chose electrician/automation mechanic line.

Where did you do your training for your skill?
Making new innovations to our electrical lifter base, and by drawing inventor and autocad pictures.

How did you first find out about your Member organization and its programs?
First time I heard about national skills competition taitaja was when I was in upper comprehensive school and this competition was in our city this year.

Who influenced you to pursue your skill as a career?
I dont really have any influences, but in upper comprehensive school I started liking physics and especially electricity.

What is your experience in participating with your Member organization?
it's always been fun.


Describe what your experience has been since your involvement with WorldSkills.
practising for the worldskills competition has been very busy, becouse I study and work at the same time. But eventought practicing has been very pleasing.

Did participating in the skills competitions and training for WorldSkills help you progress in your skill? Please describe.
Participating in the skills competition and training for the Worldskills have teached me alot. I have more understanding of electronics and new ways to control motors etc.

What do you currently do? Where do you work?
I study in University of applied sciences at the school of engineering in Oulu, and my education line is electrical and automation engineering, my option is electrical engineering.

What are your future career aspirations?
I would love to work internationally, so that's my aim for my career.