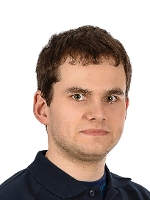 Lauri Luoma
Competitor in Skill: Mechatronics
Country: Finland
How did you get interested in your skill?
I have been interested in all kinds of technology since childhood. I learned about electricity from my father who is an electrician and a lock smith. I started by building electric DIY kits with my dad and when I grew up I built all kinds of machines and gadges. I got more and more interested and chose to study industrial automation in vocational school after graduating from the middle school. Now I study automation in Technical University of Tampere and I feel I made a good choise with this skill.

Where did you do your training for your skill?
Most of the time I'm training at my vocational school. Since I already finished my studies there and study in university now I have to use lots of my free time for training. Although I do most of my training at school I think the best training events I've had has been all previous competitions like two Finnish championship competitions and Finland VS. China mechatronics competition.


How did you first find out about your Member organization and its programs?
In the first year of my vocational studies one of my teachers asked if we wanted to participate in the Finland VS. China mechatronics competition. I said yes and after the competition he asked if we wanted to participate also in the Finnish championship competition. Since then I have been part of my school's vocational competitions team.


Who influenced you to pursue your skill as a career?
I really think there are various things that influenced me but I would say that the first inspiration came from my dad. Since then my hobbies and school has probably had the biggest influence in my career choices. Although I'm not sure yet if I choose my skill as my career or if I pick some other orientation in technology.


What is your experience in participating with your Member organization?
It's been really interesting and unique experience to participate all these national competitions and the China-Finland -competition. Our organization has been really well working and supportive all the time since I started participating. Competitions themselves have been interesting and new experiences for me between normal vocational studies.


Describe your most memorable moment so far with WorldSkills?
I think the most memorable thing this far has been the moment when I heard that we were chosen for the Brazil WSC competition. Since this is my first (and probably only) WorldSkills competition and I'm filling this questionnaire before the actual competition I don't have so many memorable moments with WorldSkills yet.


Describe what your experience has been since your involvement with WorldSkills.
This far it's been really exciting to prepare for the WorldSkills Brazil because it's going to be my first competition abroad and also my first big international competition. My experience about WorldSkills this far has been mainly about national team camps and training sessions at my vocational school. I have only positive experiences about involvement in WorldSkills but I'm still waiting for the biggest and most unforgettable experiences in Brazil.


Did participating in the skills competitions and training for WorldSkills help you progress in your skill? Please describe.
I think participating in the WorldSkills competition and training has given me certain important experiences. Nevertheless, these competitions in mechatronics are quite a bit different than actual mechatronics work in schools or working field. These competitions keep up my interest in mechatronics, provide certain skill to handle stress, develope patience and teach me to do high quality work.

What do you currently do? Where do you work?
After vocational studies I worked as an aircraft co-mechanic in Finnish air force for one year during the competition training and now I'm about to start my studies in Tampere University of Technology majoring in automation.


What are your future career aspirations?
I'm looking forward to work with future technoligies in some international company. I can imagine that my future job has something to do with clean tech and that I'm working abroad. I don't have very detailed plans yet because I haven't started my university studies and I believe that there will be many new options and chances unfolding for me during my studies.