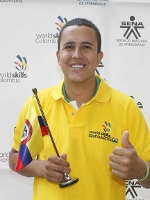 Daniel Esteban Gil Pabón
Competitor in Skill: Electrical Installations
Country: Colombia
1. How did you get interested in your skill?
Since I was a Child, I started to work with my father.
2. Where did you do your training for your skill?
I trained In El Sena, at the Centre of Innovation, Agribusiness and Tourism, which is the training centre to which I belong.
3. How did you first find out about your Member organization and its programs?
I noticed about the contest through advertisement.
4. Who influenced you to pursue your skill as a career?
I was influenced by my family and my own dreams.
5. What is your experience in participating with your Member organization?
I was champion in WorldSkills Regional, National and Americas.
6. Describe your most memorable moment so far with WorldSkills
Being Champion of my skill in WorldSkills Americas was an amazing experience and an unforgettable feeling.
7. Describe what your experience has been since your involvement with WorldSkills
It has been the best that ever happened to me up to now.
8. Did participating in the skills competitions and training for WorldSkills help you progress in your skill? Please describe.
Of course, it has been a very important contribution in my personal and professional life.
9. What do you currently do?  Where do you work?
I am training, studying and getting ready for the competition.
10. What are your future career aspirations?
I want to take advantage of the coming opportunities.