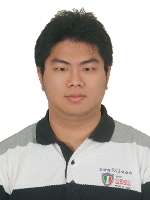 ZHENG-XIN HUANG
Competitor in Skill: IT Software Solutions for Business
Country: Chinese Taipei
NothingWillRemain
1. How did you get interested in your skill?
Problem solving.

2. Where did you do your training for your skill?
School.

3. How did you first find out about your Member organization and its programs?
My senior high school's teacher recommend me.

4. Who influenced you to pursue your skill as a career?
My teacher Derching Wu.

5. What is your experience in participating with your Member organization?
Since 2010 to 2014.
6. Describe your most memorable moment so far with WorldSkills?
Get the second Fourth place on the second year.

7. Describe what your experience has been since your involvement with WorldSkills
Talking and creating.

8. Did participating in the skills competitions and training for WorldSkills help you progress in your skill? Please describe.
Yes, that the best thing in my life…I think so.

9. What do you currently do? Where do you work?
Student.

10. What are your future career aspirations?
Form my own company.