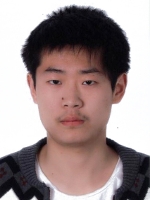 Xinshan Wang
Competitor in Skill: Sheet Metal Technology
Country: China
How did you get interested in your skill?
I'm curious about metal works since childhood. Later on, I get quite interested in sheet metal forming.

Where did you do your training for your skill?
I take training for my skill at Electro Mechanical Department of Hangzhou Technician Institute.

How did you first find out about your Member organization and its programs?
I am informed of the WorldSkillsCompetition by professors in my school. And then, I began to search on the internet for more information to know about our Member organization and its programs.

Who influenced you to pursue your skill as a career?
It is my advisor on sheet metal technology who influenced me to pursue my skill as my future career.

What is your experience in participating with your Member organization?
I have gained both theory and techniques on sheet metal technology through my school studying. Moreover, I have been through a series of competitions in my country, all of which have helped me to gain the contingency ability. All these are the experiences that I would appreciate a lot.

Describe your most memorable moment so far with WorldSkills?
It is when I shared my successful experience on completing a sheet metal work through hard efforts withmy counterparts.

Describe what your experience has been since your involvement with WorldSkills
Since I signed up for theWorldSkills, I have been through a series of competitive selection examination, the school-level selection competition, the city-level selection competition, the provincial competition, and finally the national competition. After becoming a member of the national training team, I take intense training every day.

Did participating in the skills competitions and training for WorldSkills help you progress in your skill? Please describe.
Through the participation in this competition and preparation for it, I have improved quite a lot both in my skills on sheet metal technology and my willpower. This will surely contribute a lot to the promotion of my professional aptitude.

What do you currently do? Where do you work?
I am a student studying in Hangzhou Technician Institute in China.

What are your future career aspirations?
I will carry out a continuouslearning, carry forward the sheet metal culture, devote myself to vocational education and become a socially useful talent.