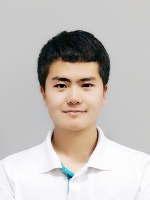 Congyu Lu
Competitor in Skill: IT Software Solutions for Business
Country: China
How did you get interested in your skill?
The name of my skill is IT Software Solutions for Business, which is closely associated with the computer. The computer always gives me a lot of fun, even in the beginning.I love how it can transform beautiful drawings onto screen, run interesting games, facilitate workload with a well-designed application and connect to the Internet through certain software.
With greater degree of understanding to the computer, I realized that it is truly an amazing invention, where you can incur various incidents by a short part of English typing which attracted me a lot. And that is how I got interested in my skill.

Where did you do your training for your skill?
Every skill is assigned a training base in China, where we carry out our learning and practising.

How did you first find out about your Member organization and its programs?
I learnt about our Member organization and my skill program via the advertising of our college.

Who influenced you to pursue your skill as a career?
Myself. And to be exact, my hobby.

What is your experience in participating with your Member organization?
Because it is the first time for us to attend such a skill program, there is no experience to share.

Describe your most memorable moment so far with WorldSkills?
The most memorable moment for me is when I strived for the WSC with my dear friends and teachers.

Describe what your experience has been since your involvement with WorldSkills
OK. I have experienced several selection competitions for the final competitor for the WSC.

Did participating in the skills competitions and training for WorldSkills help you progress in your skill? Please describe.
My skill for developing software solutions is promoted greatly via the training and actual competitions, so is my communication skill.

What do you currently do? Where do you work?
Now, I am honing my specific skill every day and that is my exact work, too.

What are your future career aspirations?
To be an experienced and excellent software developer or software designer.
Profile in other languages: