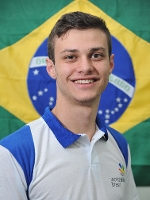 Mateus Freitas
Competitor in Skill: Mechatronics
Country: Brazil
How did you get interested in your skill?
Desde crianca gostava de desmontar brinquedos, para ver como funcionavam, assim com o passar do tempo fui gostando ainda mais, entao descobri uma area que atuava tanto na parte mecanica quanto na parte eletroeletronica, programa ao, etc...
Assim me apaixonei pela minha ocupacao.


Where did you do your training for your skill?
Em nossa escola, Centro Tecnologico de Mecatronica SENAI, em Caxias do Sui, Rs,
Brasil.


How did you first find out about your Member organization and its programs?
Em uma reuniao em Marco de 2015, com toda a delega-;ao brasileira, onde conhecemos todos os competidores e experts, e os respectivos processos de acompanhamento.

Who influenced you to pursue your skill as a career?
Ninguem, eu mesmo corri atras do meu sonho, em ser o melhor do mundo no que eu faco.

What is your experience in participating with your Member organization?
Urn sonho ja realizado olhando toda minha trajetoria, ja sou urn dos 39 melhores do mundo no que eu fa o. comecei sendo o melhor da minha escola, e hoje indo para a maior competi ao profissional do mundo, a experiencia que isso ja me agregou e me agregara sera de incontaveis conquistas profissionais e pessoais, estou pronto para mais essa experiencia em Sao Paulo.

Describe your most memorable moment so far with WorldSkills?
Fico entre duas : A medalha de ouro no WSA Bogota 2014 e a vaga para ser o representante do Brasil na WSC SaoPaulo2015.

Did participating in the skills competitions and training for WorldSkills help you progress in your skill? Please describe .
Com certeza, pois e o mais proximo da WSC que temos no dia a dia, a competi ao
contra outras equipes, treinamentos para desenvolver habilidades espedficas, tudo como me:smo prop6sito, fazer o melhor, dar o melhor de mim na WSC SaoPaulo2015, ser o Melhor do MUNDO em Mecatronica.


What do you currently do? Where do you work?
Nao trabalho, somente estudo/treino 5 dias por semana, 8 horas por dia, meu foco e somente na WSC SaoPaulo2015, em ser o Campeao Mundial de Mecatronica de 2015.


What are your future career aspirations?
Participando da WSC SaoPaulo2015, janos rende muitas oportunidades no mercado de trabalho, sendo o Melhor do Mundo em Mecatronica, inumeras portas se abrirao, eu pretendo seguir a melhor oportunidade, e tambem come ar minha gradua ao de Engenharia de Controle e Automa ao. Mas nao penso muito no p6s WSC, penso somente na competi ao, ap6s eu tra o novas metas e objetivos e vejo onde a vida me leva.


Profile in other languages: