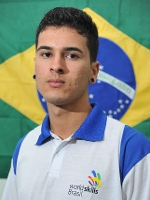 Eric Coimbra Silva
Competitor in Skill: Landscape Gardening
Country: Brazil
How did you get interested in your skill?
Me interessei à partir da observação dos jardins montados pela equipe de jardinagem antecessora.

Where did you do your training for your skill?
No SENAI Paulo de Tarso em Belo horizonte e centro de treinamento Top One em Brasilia.

How did you first find out about your Member organization and its programs?
Atraves de amigos que estudaram na instituição.

Who influenced you to pursue your skill as a career?
Amigos e colegas de trabalho.

What is your experience in participating with your Member organization?
Olimpiadas do Conhecimento etapa estadual 2013, Skills Finland 2015.

Describe your most memorable moment so far with WorldSkills?
O Êxtase e satisfação ao conquistar a medalha de ouro na etapa estadual e conseqüentemente a oportunidade de ser o representante brasileiro na WorldSkills São Paulo 2015.

Describe what your experience has been since your involvement with WorldSkills
Iniciei na modalidade Construção em alvenaria em julho de 2013. Em novembro disputei a etapa estadual, e me sagrei campeão. Após uma ultima seletiva não alcancei a vaga para representar meu estado. Contudo, fui convidado a integrar a equipe juntamente com o Alef, vencendo as seletivas e alcançando o status de representante brasileiro da #37 na WorldSkills 2015. Em maio de 2015 fui convidado a participar do torneio Skills Finland.

Did participating in the skills competitions and training for WorldSkills help you progress in your skill? Please describe.
Sim. O conhecimento adquirido ao competir em outra área (Construção em Alvenaria) e a oportunidade de disputar um torneio em outro país agregou muito conhecimento e técnica.

What do you currently do? Where do you work?
Competidor, é a minha atividade. Trabalho no SENAI.

What are your future career aspirations?
Sucesso Profissional e realização pessoal.


Profile in other languages: