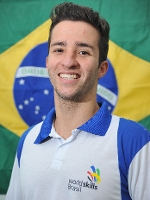 Victor Bernardo
Competitor in Skill: Print Media Technology
Country: Brazil
How did you get interested in your skill?
Apos ter feito um curso no SENAI eu fiquei sabendo da competic;:ao e me interessei ainda mais pela area.

Where did you do your training for your skill?
Empresas e escolas da rede SENAI.


How did you first f ind out about your Member organization and its programs ?
Houveram alguns encontros e foram discutidos assuntos relacionados a capacitac;:ao comportamental e tecnica.


Who influenced you to pursue your skill as a career?
0 historico de competidores anteriores da escola onde estudei influenciaram minhas escolhas .

What is your experi e nce in participating with your Member organization ?
Desejo o melhor resultado para todos da delegac;:ao. Espero tambem que eu tenha um bom
desempenho em todas as provas e possa representar meu pafs, da melhor maneira possfvel.

Did participating in the skills competitions and training for WorldSkills help you progress in your skill? Please describe .
Houve progresso e a partir destas experiencias foi possfvel melhorar meu desempenho.

What do you currently do? Where do you work ?
Atua lmente sou um aluno do SENAI BRASIL.

What are your future career aspirations?
Seguir carreira dentro da area grafica.



Profile in other languages: