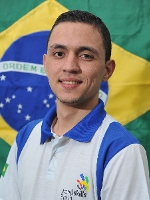 Felipe Gutierra
Competitor in Skill: Polymechanics and Automation
Country: Brazil
What is your experience in participating with your Member organization?
Eu já venho representando o SENAI em competições nacionais a dois anos mas em uma competição internacional esta será a primeira vez.

Describe your most memorable moment so far with WorldSkills?
Foi o momento da conquista de se tornar o representante do Brasil na WorldSkills pois somente para conseguir esta vaga foram 2 anos e meio de treinamento e esta conquista coroou esses anos.

Describe what your experience has been since your involvement with WorldSkills
Tem sido uma boa experiência com bastante trabalho e aprendizado envolvido mas também com vários momentos de confraternização com a equipe.

Did participating in the skills competitions and training for WorldSkills help you progress in your skill? Please describe.
Com certeza além do conhecimento técnico obtido pelo o treinamento, junto também vem um grande conhecimento na área de comportamento pessoal o saber trabalhar sobre pressão, saber lidar com os imprevistos, buscar sempre a melhoria continua, e acredito sim que isso poderá ser um diferencial em minha carreira.

What do you currently do? Where do you work?
Atualmente eu me dedico tempo integral ao treinamento para WorldSkills.

What are your future career aspirations?
Pretendo me especializar na minha área de atuação realizando novos cursos, obtendo novas experiências profissionais e com isso conseguir realizar os meu objetivos pessoais.
Profile in other languages: