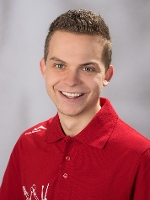 Fabian Hofer
Competitor in Skill: Mechanical Engineering Design - CAD
Country: Austria
How did you get interested in your s kill?
Through my apprenticeship teacher.

Where did you do your training for your skill?
At the company on which I work.

How did you first find out about your Member organization and its programs?
Through my apprenticeship teacher .


Who influenced you to pursue your skill as a career?
My apprenticeship teacher .

What is your experience in participating with your Member organization? work under extreme time pressure, make peak experiences


Describe your most memorable moment so far with WorldSkills?
The first place on the Austrian State Championship .

Describe what your experience has been since your invo lvement with WorldSkills to experience an advance

Did participating in the skills competitions and training for WorldSkills help you progress in your skill? Please describe.
Of course. I' m learning a lot of new possibilities to design model s .



 What do you currently do? Where do you work
I'm in training for Worldskills. In Austria at juliu s Blum GmbH.