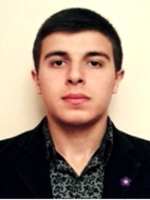 Artur Gevorkyan
Competitor in Skill: Jewellery
Country: Armenia
How did you get interested in your skill?
Jewellery is one of oldest professions. I like it and also my parents advised me.

 

Where did you do your training for your skill?
I still study in college. I do my trainings there and also at Yerevan Jewellery Plant.

 

How did you first find out about your Member organization and its programs?
I knew about it at college.

 

Who influenced you to pursue your skill as a career?
I like it and make my choice myself.

 

What is your experience in participating with your Member organization?
My first participation was the participation in WorldSkills Armenia.

 

Describe your most memorable moment so far with WorldSkills?
The most memorable moment was my victory.

 

Describe what your experience has been since your involvement with WorldSkills
I have no experience.

 

Did participating in the skills competitions and training for WorldSkills help you progress in your skill? Please describe.
Of course trainings and participation in competition helped me to have progress.

 

What do you currently do?  Where do you work?
Now I study at college and do my trainings for WorldSkills.

 

What are your future career aspirations?

I want to have my jewellery workshop.